2013 Yamaha XT 1199
---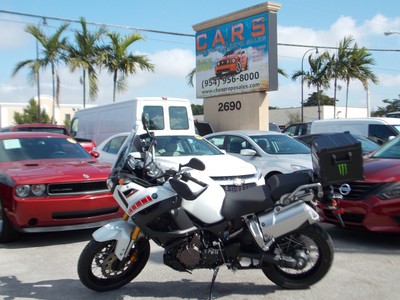 Total Views: 268

Time Remaining:
(HINT: It's FREE & Requires LESS INFO that Craigslist or Cycle Trader)
Here's More About It:
The Yamaha 2013 XT1200Z Super Ténéré with only 984 miles, fits perfectly in this pattern and does much more than that. At the heart of this beauty lies a 1199 cc, liquid cooled, 2 cylinder engine that develops a maximum output of 80.9 kW (110PS) at 7,250 rpm and 114.1 Nm (11.6 kg-m) of torque at 6,000 rpm. The Super Ténéré is equipped with Yamaha's Chip-Controlled Throttle (YCC-T) technology with 3-stage traction control that can be turned off if wanted. You also get switchable Yamaha D-MODE engine mapping. Shaft drive inline 2-cyl engine - 270- degree crankMass kept low and central for agile handlingIntelligent Unified Brake System and ABSYCC-T, 3-stage traction control, Yamaha D-modeTough spoked, tubeless aluminium rimsAdjustable front and rear suspensionAdjustable seat height Engine typeliquid-cooledDisplacement1,199ccBore x stroke98 mm x 79.5 mmCompression ratio11.0 : 1Maximum power80.9 kW (110PS) @ 7,250 rpmMaximum torque114.1 Nm (11.6 kg-m) @ 6,000 rpmLubrication systemDry sumpFuel systemElectronic Fuel InjectionClutch typeWetIgnition systemTCIStarter systemElectricTransmission systemConstant MeshFinal transmissionShaftFrameSteel tube backboneFront suspension systemUpside-down telescopic fork, Ø 43 mmFront travel190 mmCaster angle28ºTrail126 mmRear suspension systemSwingarmRear travel190 mmFront brakeHydraulic dual disc, Ø 310 mm wave discsRear brakeHydraulic single disc, Ø 282 mm wave discFront tyre110/80R19M/C 59VRear tyre150/70R17M/C 69VOverall length2,255 mmOverall width980 mmOverall height1,410 mmSeat height845/870 mmWheel base1,540 mmMinimum ground clearance205 mmWet weight (including full oil and fuel tank)261 kgFuel tank capacity23 litresOil tank capacity4.2 litres The smart ABS system predicts when the wheels are about to slide and smoothly intervenes. And the Unified Brake System lets you choose between braking both wheels with just the front lever, or controlling each wheel by touching the rear brake pedal first. Together they deliver exceptional control in a wide range of riding conditions. A low and central centre of mass was one of Yamaha's key design goals. You'll notice the effects straight away - the superb balance and agility you feel at slow speeds and on loose surfaces, and the light, quick steering as you flick the bike effortlessly through switchback corners on mountain roads. call us at 954-956-8000 today
Where This Motorcycle Is Located
City » Pompano Beach
State » Florida
Postal Code » 33069
Country » United States
---
Wondering If We Cover More of Your Dirt Bike Interests?
Find Out Right Now.